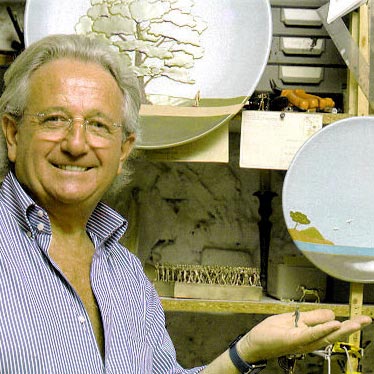 Sandro Soravia was born in Milan in 1931.

He studied ceramica in Gubbio with Prof. Aldo Ajò, and devoted himself to the profession after many years spent working in the advertising sector in Italy and South America.

At present he lives and works in Albisola (Savona) and many artiste from different countries find a warm welcome at his studio at 13, via Colombo.

He works with the Ligurian Centre for the History of Ceramics and he regularly takes in students from local ceramics courses to teach them applied technology. He occasionally gives ceramics classes at the primary and middle schools in Albisola and at the technical high school in Savona.

He illustrates book jackets and his work has been published in school textbooks on the teaching of art. Ceramic creation is the main focus of his work which is characterised by a very individual vision and rich imagination.

He as taken part in many exhibitions and has held numerous "one-man shows" of his works in bronze, terra-cotta, and paintings in the principal cities of Italy as well as in France, Spain, Holland, Germany, Brazil, Japan, the United States, United Kingdom1 and the European Parliament in Strasbourg. He has produced work for display in public buildings in Savona and Arenzano, and his work can be found at Palazzo Madama (the Senate of the Republic), in various other italian towns and numerous private collections. He collaborated with the Ligurian Academy of Fine Arts in Genoa in developing a project for artistic initiatives to improve the environment and work with the Academy of Fine Arts "Cignaroli" in Verona.

Leading italian and foreign critics have written about his work.

Following the success attained in Paris in 1997, during a personal exhibition at the Galerie Liliane François, the historical area of Saint Germain de Près that was Corot's studio and home at the end of the last century, the S.I.A.E., the Italian Authors' and Publishers' Association, commissioned Soravia to create a work of art that would represents the "SIAE Award", the Oscar for creativity.

Based on this theme, the artist created a large sculpture, called "The Tree of Creativity", for the Rome offices of the Association. This work became the official symbol of the SIAE awards.